Your anniversary is a very special time indeed. The trend for a wedding anniversary dress for the year of 2016 seems to be getting a dress in shades or red, orange or more precisely coral. The dresses are rather simple that sport this color, but they show very detailed high quality couture. These dresses fall comfortably below the knee, are solid in color, have buttons or a zipper from the waist and up the front. Some sport a tie around the waste to make a floppy bow, which seem to be rather elegant and as if indicating that a noteworthy celebration is taking place. And indeed a wonderful celebration is taking place. After all, it is your wedding anniversary.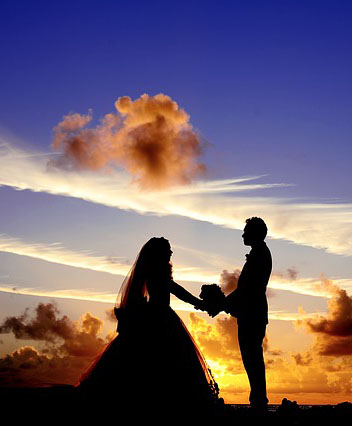 But the good news is that women are not restricted to just choosing red, orange or coral dresses for their wedding anniversary. Beige and taupe colored dresses with somewhat of a metallic look to the fabric that come to the knee are very in season for wedding anniversaries. They fall below the knee, are rather straight cut and are beaded at the neckline. Or a scarf with intrinsic colors and patterns are paired with such a dress if the dress does not have an ornate beaded neckline.
For men, a black suit coat and black pants with a nice baby blue shirt and open collar for a more casual celebration, such as at a nice restaurant or with family and friends for the occasion of the anniversary, is considered appropriate attire for the suit of the man. A tie can be worn if the occasion is more formal. The black suit coat with the baby blue shirt makes a very striking impression for any man.
For really casual comfort, a nice wool sweater with a masculine design in colors of grey, beige, navy or burgundy goes well for the man who just does not want to wear a suit. This sweater can be paired with a nice pair of beige or grey dress pants for a classy look that makes it appear as if the man put some decent thought in putting himself together well for the occasion
A woman can also wear a lovely lacy wedding dress in white or ivory if she is celebrating a major milestone, such as ten years, twenty years or even more. This is lovely if an extravagant event is planned to commemorate the anniversary with family and friends with a sit down meal, a programme, and fun. The woman can even have a bouquet to carry if she so desires. It is a sweet idea if the man buys the bouquet for her as a surprise and presents it to her in front of all the people gathered to share the memories of the celebration of the anniversary of the couple.
Give yourself time to buy the clothes, at least three months before the wedding anniversary celebration. This applies to both the woman and the man that are celebrating their wedding anniversary, as you may need time for alterations. It would be a shame to buy something with no time for needed alterations to be able to be done. Also, buying your outfit ahead of time allows you to have enough time to be able to find shoes and jewellery to accommodate the outfit well.